Le complexe dénotant défini de Russell
With " On Denoting " (OD, 1905), the philosophy of Russell takes a dramatic turn. Russell contends that the conception of a " denoting concept " he introduced in Principles of Mathem- atics (PoM, 1903) is wrong: the noun phrase has no correlate on the logical level and, if it is to reflect the logical structure, it should be broken up into quantification, variable et predicate. Russell's semantic arguments relevant to the definite descriptions, especially those linked to the Gray's Elegy passage, will be thoroughly investigated. The fallacy lies, as one could have expected, in his confusing use and mention... Once clarified and amended, it appears that the conception is, at least on this point, no longer aporetic: the (used) denoting complex, properly distinguished from the (mentioned) denoting concept, is really the source of no specific diffi- culty. It turns out that Russell discarded his first model quite hastily.
La philosophie de Russell connaît un tournant décisif en 1905 avec la publication de " On Denoting " (OD). Russell prétend y réfuter un élément important de Principles of Mathematics (PoM) publié deux ans plus tôt, le " concept dénotatif " : ainsi, le groupe nominal ne corres- pondrait à aucun objet sur le plan logique mais devrait être éclaté entre quantification, variable et prédicat. On examinera ici les arguments sémantiques de Russell concernant les descriptions définies, et particulièrement ceux du passage de " l'Élégie de Gray ". Comme on pouvait s'y attendre, l'erreur réside dans une confusion entre usage et mention... La conception une fois précisée et un rien rectifiée n'est plus aporétique, au moins sur le plan sémantique : le complexe dénotant (utilisé), bien distingué du concept dénotatif (mentionné), ne pose en fait pas de difficulté spécifique. Il s'avère que ce premier modèle a été condamné bien hâtivement. Il sera commode et utile de présenter les notions de Russell en les mettant en contraste avec celles de Frege (§1). Ensuite seront exposées les raisons d'être de la signification et de la dénota- tion, et la dualité des deux notions avec le " complexe dénotant " (§2). On abordera alors les difficultés que Russell soulève dans le passage de l'Élégie de Gray de " On Denoting " (§3), on proposera une construction alternative (§4), on montrera que l'aporie est due à la confusion, à deux reprises, entre usage et mention (§5) puis on rapportera les difficultés à celles qu'amène le concept distinctif (§6). La relecture minutieuse du texte de Russell permettra de préciser la cons- truction présentée (§7). Enfin, on examinera l'apport de " On Denoting " sur le plan sémantique (§8) et on dressera un bilan clarifié de cette révolution de 1905 (§9).
Fichier principal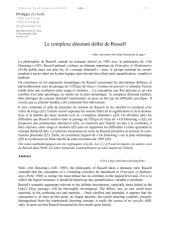 rcdd163.pdf (1.25 Mo)
Télécharger le fichier
Origin : Files produced by the author(s)