La justice, la loi, la violence
This paper aims to investigate the relationship between Justice, Law, laws and power. It will focus on the views of Thomas Hobbes's definition of justice, as to say according to Jacques Derrida, the concept of "justice as Law, of justice as it becomes laws, of the law as Law". This perception of justice is necessarily inseparable from the brutal power as violence. Although this article is largely limited to this critique, I follow Walter Benjamin and Derrida, especially the latter who shows two possibilities : thinking justice beyond laws and Law, and relating justice with another idea of strength that is not violence.
Dans cet article, mon but est d'interroger la relation entre la justice, le Droit, la loi et la force. A travers ce questionnement, d'une part je vais centrer mon analyse sur les idées de justice de Thomas Hobbes, définies ainsi selon Jacques Derrida : le concept de " la justice comme Droit, de la justice en tant qu'elle devient Droit, de la loi en tant que Droit ". Je vais montrer que cette compréhension de la justice est nécessairement inséparable de la compréhension de la force comme violence. D'autre part, je critique cette structure de la justice à partir des réflexions de Walter Benjamin et surtout de Derrida qui évoque deux possibilités : penser la justice au-delà de la loi et du Droit, et établir une relation entre la justice et une autre idée de la force qui serait non-violence.
Fichier principal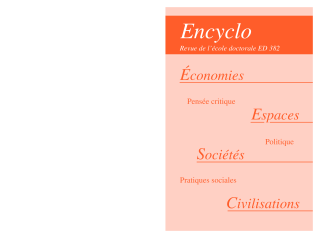 Encyclo_2_ED_382_Serpil_Tunc_Utebay_.pdf (327.33 Ko)
Télécharger le fichier
Origin : Explicit agreement for this submission