Pour un dictionnaire spécialisé orienté vers la mise en discours
This article is part of a preparatory phase of a project with multilingual terminology database (French-Spanish- Polish) within the Internet law that is called DiTerm. It is a specialized dictionary created from a collection of legal, academic and popular texts. It is also designed as an aid in translation which aims to describe practices observed in the language of a given specialty. We first present the stages of the terminology analysis that allowed extracting a large number of the information of a different kind such as linguistic, cognitive, communicative, social and cultural. In the second part of the article, we will focus on presenting a consignment template of various lexical-semantic relationships (derivational, actantial, circumstantial, collocational), inspired by the model of lexical functions (LF) developed by Mel'čuk and his co-workers.
Le présent article s'inscrit dans la phase préparatoire d'un projet de base de données terminographiques multilingue (français - espagnol - polonais) du domaine du droit de l'Internet, baptisée DITerm. Il s'agit d'un dictionnaire spécialisé créée à partir d'un corpus de textes juridiques, universitaires et de vulgarisation et conçu comme une aide à la traduction (et à la rédaction technique) dont l'ambition est de décrire les usages observés dans la langue de spécialité donnée. Nous présentons d'abord les étapes de l'analyse terminologique qui a permis d'extraire un grand nombre d'informations linguistiques, cognitives, communicationnelles, socioculturelles. Dans la deuxième partie de l'article, nous nous concentrons sur la présentation d'une méthode de consignation de différentes relations lexico-sémantiques (relations dérivationnelles, actantielles, circonstancielles, collocationnelles), inspirée du modèle des fonctions lexicales (FL) développé par Mel'cuk et ses collaborateurs.
Fichier principal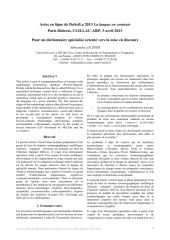 LICZNER_Terminologie-Textuelle_DoSciLa2013.pdf (469.78 Ko)
Télécharger le fichier
Origin : Files produced by the author(s)