Le corps au travail de son émancipation. Gestes politiques et processus artistiques à partir du projet Autour de la table
Trespassing the opposition between " emancipation " and " work " in which the body at work would be considered as an alienated one, this text proposes a way to read emancipation as something peculiar to this body that works itself, in a logic always specific. What kind of gestures, of time and space organisation does it have to invent in order to accomplish its task? Which special knowledge is he producing not out of production but in its middle? How does it let resonate the statement of Spinoza "one doesn't know what a body can", proving its persistence at the level where it is supposed to be dominated and expressing, thanks to this internal complication of power games rather than a mere power reversal, the political strength of this acting body? Instead of researching it in the "sublime" body of the ballerina, the collective and international project Around the table finds it in these bodies at work that inhabit and practice our cities, singularly as well as collectively. The project offers a stage of visibility and narratives that gives to each of these bodies a chance to reencounter, in its task (munus, muneris) expressed and shared with (cum) others, what is still able, inside a society atomised by capitalism, to create a commom (cum-munus).
Ne se limitant pas à l'opposition entre émancipation et travail qui ferait du corps à l'ouvrage un corps forcément aliéné, cet article propose une lecture de l'émancipation à même ce corps qui, toujours selon une logique propre, se travaille. Quels gestes, quel agencement de son espace-temps doit-il inventer pour accomplir sa tâche et quel savoir unique y produit-il non pas en dehors de la production mais en son milieu ? Comment fait-il alors résonner ce " cri " de Spinoza " on ne sait pas ce que peut un corps ", en manifestant sa puissance à l'endroit de sa supposée domination et en exprimant, par cette complexification interne des jeux de pouvoir plutôt que par le renversement idéal de ce dernier, la charge proprement politique de ce corps agissant ? Loin de le chercher dans le corps " sublimé " du danseur ou de la ballerine, le projet collectif et international Autour de la table, le rencontre dans ces corps travailleurs qui habitent et pratiquent nos villes de façon singulière et partagée. Il offre à ces derniers un " plateau " de visibilité et de mise en récit permettant à chacun de retrouver, dans sa tâche (munus, muneris) exprimée et partagée avec (cum) d'autres, ce qui, au sein d'une société atomisée par la logique capitaliste, peut encore faire commun (cummunus).
Fichier principal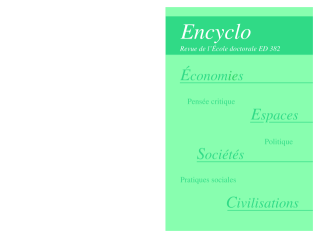 Encyclo_3_Camille_Louis.pdf (237.03 Ko)
Télécharger le fichier
Origin : Publisher files allowed on an open archive