Les cordes métallisées d'instruments de musique, un exemple de circulation et d'innovation dans l'Europe du XVIIe siècle
In the XVIIth century, the musical sphere undergoes deep transformations, be it in the field of writing, performance or the type of instrument in use. During that time is invented a new kind of string weighted with metal and it first occurrence is found in Marin Mersenne's Harmonie Universelle (1636), written in the context of a prevalence of ancient Greek texts. Spreading in the whole of Europe, wound strings attract the attention of musicians and scientists, and their descriptions reveal the type of materials as well as crafting techniques. This study is an opportunity to map, at European, regional and local levels, the relations between makers, musicians and scientists around musical practice and its instruments. It draws complex networks which, if different in shape one level to another, keep the invariant of interpersonal links, and more generally, of how its actors meet.
Au XVIIe siècle interviennent des changements profonds dans la sphère musicale, qu'il s'agisse de l'écriture, l'exécution ou le type d'instruments utilisés. Apparaissent notamment les cordes harmoniques alourdies de métal, dont la première occurrence connue se trouve dans l'Harmonie Universelle de Marin Mersenne (1636), écrit dans le contexte d'une prévalence des textes grecs antiques. Se diffusant à travers l'Europe, la corde filée attire l'attention de musiciens et savants, et leurs descriptions de l'objet révèlent ses matériaux et techniques de fabrication. Cette étude est l'occasion de cartographier aux échelles européenne, régionale et locale les relations qu'entretiennent facteurs, musiciens et savants autour de la pratique musicale et ses instruments. Elle met à jour des réseaux complexes qui, si ils diffèrent d'une échelle à une autre, comportent un invariant, celui de la relation d'individu à individu, et l'importance de la modalité de leur rencontre et interconnaissance.
Fichier principal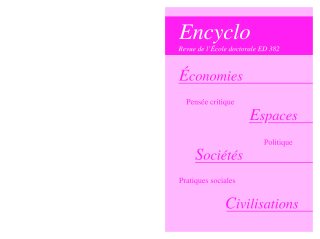 Encyclo_4_Stephane_Dennery.pdf (235.25 Ko)
Télécharger le fichier
Origin : Explicit agreement for this submission