Working with different corpora in translation teaching
Corpus use in translation teaching has established itself for some time now. Several types of corpora have been taken into account in this field, such as parallel (also called translation) corpora, comparable corpora, monolingual corpora, disposable corpora, specialised vs "general" corpora etc. Depending on the translation type -- literary or pragmatic translation -- corpus use can vary very much and offers several approaches to help learners with the act of translating. This paper however focusses on pragmatic translation, i.e. translation that is based on communicative, rather than literary criteria. We present the different possible approaches that can be applied for translation and translation teaching, and the different types of corpora used in this respect. Learner translation corpora are introduced to illustrate how such a corpus can be used in teaching translation. This type of corpus (which could be defined as a sub-type of learner corpora), is still quite rare. Suggestions for combining different approaches to obtain better results are given.
Depuis une dizaine d'année, on a introduit, dan sles formations en traduction, les approches induites par le corpus. L'utilisation de corpus se fait d'une part pour permettre au traducteur de relever des equivalents adéquats, mais aussi afin de former les apprentis traducteurs aux différentes strategies de traduction. Différents types de corpus sont mis en oeuvre, comme les corpus parallèles et comparables, les corpus monlingues, mais aussi les corpus specialise et les corpus de langue générale. Le type de corpus utilise depend du type de traduction, littéraire ou pragmatique. Ce chapitre étudie la question de la traduction pragmatique, à savoir une traduction à visée communicative, plutôt que littéraire. Nous présentons les différentes approches appliquées à l'enseignement de la traduction, ainsi que les différents types de corpus utilisés. Les corpus d'apprenants de la traduction nous permettent d'illustrer, après analyse, les différentes strategies mises en oeuvre par des apprentis traducteurs et des traducteurs professionnels. Par ailleurs, nous montrons comment une analyse base sur corpus des phénomènes posant des difficultés de traduction entre la langue source et la langue cible permet d'améliorer les strategies de traduction des apprenants.
Fichier principal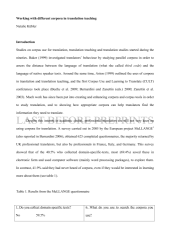 Kubler_2011.pdf (450.51 Ko)
Télécharger le fichier
Origin : Files produced by the author(s)