La responsabilité d'un professionnel de santé ne peut être engagée lorsque le décès est dû essentiellement à l'état général de santé de la personne
Criminal liability of health professionals can't be attached when the death of an elderly person is the principal consequence of his very weakened state of health. Failure to comply with the obligation to provide attentive and conscientious care, provided for in article 1110-5 of the Public Health Code, may give rise to various criminal offences, such as manslaughter and failure to assist a person in danger. Assuming that breaches could have been demonstrated, it would have been necessary, in accordance with the principle of legality, to establish a certain causal link between them and the death, and then, to retain the appropriate criminal qualification, which is not always easy. In this case, such failures could not be attributed to the physician, as the death was attributed to the patient's medical history and age. As a result, the health professional could not be referred to a trial court.
La responsabilité pénale des professionnels de santé ne peut être engagée lorsque le décès d'une personne âgée est essentiellement la conséquence de son état de santé très affaibli. Le non-respect de l'obligation de prodiguer des soins attentifs et consciencieux, prévue à l'article 1110-5 du code de la santé publique, peut être à l'origine de différentes infractions pénales, tels que l'homicide involontaire et la non-assistance à personne en péril. A supposer que des manquements aient pu être démontrés, il aurait été nécessaire, conformément au principe de légalité, d'établir un lien de causalité certain entre ceux-ci et le décès, puis, de retenir la qualification pénale adéquate, ce qui n'est pas toujours aisé. En l'espèce, de tels manquements n'ont pas pu être reprochés au médecin, le décès ayant été attribué aux antécédents médicaux et à l'âge de la patiente. Le professionnel de santé, en conséquence, n'a pas pu être renvoyé devant une juridiction de jugement.
Fichier principal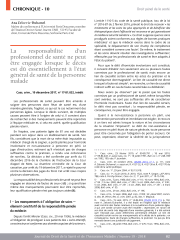 JDSAM_19_A.Zelcevic-Duhamel_La responsabilité d'un profesionnel de santé ne peut être engagée lorsque le décès est dû essentiellement à l'état général de santé de la personne malade.pdf (168.84 Ko)
Télécharger le fichier
Origin : Explicit agreement for this submission