De l'utopie marxienne comme trace de vérité à la dévictimisation du prolétariat chez Rancière : la pensée de la lutte chez Proudhon, Marx et Rancière
How far is the critique of Utopian socialism essential to the Marxist political project, and how does Jacques Rancière redefine this project by transforming or "devictimizing" the role given to the proletariat? In his criticism of Proudhon's anarchism, Marx points to some critical excess in the concept of socialist Utopia: on the one hand this utopia is simply an inadequate critical model, but on the other hand it is, as a result of this excess, a trace of truth. I will try and show how this ambiguity is pivotal to understanding how the proletariat is a universal victim in the Marxian framework, and how Rancière criticizes and makes use of this ambiguity in order to reshape a different and yet closely related concept of politics. Finally I would like to specify how Proudhon's, Marx's and Rancière's political projects constitute three different ways of theorizing the political struggle, that is to say three different ways of shaping a revolutionary movement in relation to a specific type of "wrong" (Utopian wrong, absolute wrong, generic wrong).
Comment la politique marxienne se configure-t-elle à travers la critique de l'utopie, et comment Jacques Rancière reconfigure-t-il cette pensée politique en transformant ou en " dévictimisant " le rôle donné au prolétariat ? Dans la critique qu'il fait de l'anarchisme de Proudhon, Marx installe un excès critique dans l'utopie : d'un côté l'utopie n'est qu'un modèle critique inadéquat, mais de l'autre elle est, par cet excès, une trace de vérité. J'essayerai de montrer comment cette ambiguïté chez Marx fait du prolétariat une victime universelle, et comment Rancière critique et travaille cette ambiguïté à son tour pour créer un autre concept de la politique. À partir de là, je voudrais montrer comment ces trois positions, celles de Proudhon, Marx et Rancière, constituent trois pensées de lutte, c'est-à-dire trois manières dont un mouvement révolutionnaire se configure autour d'un type spécifique de tort (tort utopique, tort absolu, tort générique).
Fichier principal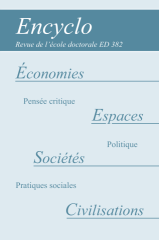 Encyclo_2012_Anders_Fjeld.pdf (102.9 Ko)
Télécharger le fichier
Origin : Explicit agreement for this submission