L'affaire de la calandre de Tours au XVIIIe siècle, de l'acquisition à l'embarras (XVIIIe-XIXe siècles)
Technical competition between England and France during the eighteenth century is illustrated by the French attempt to acquire the moire technology from the English. The mechanic Jacques Vaucanson was requested to devise a machine that would compete with English calenders. Vaucanson's machine presented several imperfections, so the head of the board of trade, Daniel Charles Trudaine, sent abroad messengers to collect information and samples and to recruit a worker capable of making a calender for Lyons: John Badger. Owing to this success and the good quality of fabrics, the town of Tours hired Humphrey Badger, a relative of John Badger's. His living conditions were clearly worse than his colleague's. Expenses and rent were higher and he had to submit to prices fixed by silk manufacturers. Later on, he suffered from the fall in production due to the Revolution. His descendants, the Meusnier Badgers, faced similar problems: expenses, rent and the denial of property rights on the calender. The calender was bought out by the town and sold to the General Hospice of Tours. It was not exactly a sale, rather a way of dispensing with the machine although the local Chamber of commerce did not want to destroy it. When the moire fashion faded, the machine was abandoned.
Au XVIIIe siècle, la concurrence technique entre l'Angleterre et la France est rude. La technique de la moire, très bien maîtrisée en Angleterre, ne l'est pas en France et ses représentants (fabricants et villes) cherchent par tous les moyens à acquérir ce savoir-faire et les machines qui y correspondent. Le mécanicien Jacques Vaucanson est chargé d'élaborer une machine capable de rivaliser avec les calandres d'Outre-Manche, sans grand succès au départ à cause des nombreuses réparations que demande la calandre. À cause de ses difficultés, Daniel Charles Trudaine, directeur de l'administration du commerce, envoie ses émissaires afin de réunir des échantillons et des informations et de recruter un artisan capable d'établir une calandre à Lyon : John Badger. Le succès est immédiat, les étoffes sont de qualité. La ville de Tours qui souhaite, avec le soutien de Trudaine, se maintenir dans la concurrence avec l'Angleterre et Lyon, engage Humphrey Badger, parent proche de John Badger. Ses conditions d'établissement sont nettement moins bonnes que celles de John Badger. Ses charges et son loyer sont plus élevés et il doit se soumettre à la puissance des soyeux qui décident des prix. Il subit aussi la chute de production suite à la Révolution, tout comme les soyeux qui lui passent commande. Ses descendants, les Meusnier Badger, connaissent des problèmes identiques et leurs revendications de propriété sur la calandre qui ne sont pas acceptées. La calandre achetée par la ville passe aux mains de l'Hospice Général de Tours. Il s'agit en fait d'un moyen de s'en débarrasser bien qu'il soit impossible de la détruire puisque les soyeux de la Chambre de Commerce s'y opposent. Avec le passage de mode des moires, la machine se voit progressivement abandonnée.
Fichier principal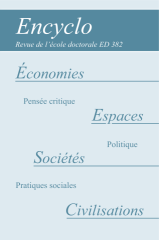 Encyclo_2012_Emilie_Ballon.pdf (279.59 Ko)
Télécharger le fichier
Origin : Explicit agreement for this submission