Traitement différentiel dans les parcours thérapeutiques
Several studies on social disparities in health agree that the analysis of the factors contributing to the production of these disparities conceals a grey area in the study of the quality of health care itself. In other words, once legal and economic obstacles are settled and individuals have access to health care services, is the medical care provided of equal quality for all or does a differential treatment interfere that cannot be explained only by health status ? We will present results from a study dealing with the quality of medical care for patients suffering of HIV-AIDS and/or tuberculosis. This research took place in three public hospitals in Paris. We followed 94 patients receiving medical care and we were able to get a better understanding through their doctors (17) of the motives for therapeutic and clinical decisions. The analysis shows that patients, because of ethnic classification, may receive particular treatment especially regarding their compliance and inclusion in clinical studies.
Cette étude, menée sur deux ans, achevée au cours de l'hiver 2008-09, s'est intéressée à la discrimination ethnique et "raciale" dans les soins de santé, une dimension encore peu explorée en France. Notre objectif, dans cette étude, consistait donc à rechercher si les parcours thérapeutiques d'individus diagnostiqués pour un VIH-SIDA et/ou une tuberculose pouvaient faire l'objet d'un traitement médical différencié mettant en cause des critères "ethniques" ou "raciaux". Il s'agissait là, non pas d'examiner les risques de discrimination dans l'accès aux soins et aux services, mais d'en explorer la possible émergence dans le continuum même des soins, au sein de la relation entre soignants et soignés. Le devis méthodologique repose sur trois volets intégrés et mixtes (approches quantitative avec questionnaire et qualitative avec entretiens et observations). L'étude a été menée dans des services qui prennent en charge des maladies infectieuses (VIH-SIDA et/ou tuberculose) de trois centres hospitaliers universitaires (CHU) de la région Ile-de-France. Les données concernant les trajectoires thérapeutiques ont été collectées sur un échantillon de patients suivis pour un VIH-SIDA et/ou une tuberculose, associée ou non.
Fichier principal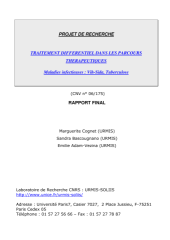 Cognet_et_al_Rapport_version_pour_mise_en_ligne.pdf (2.24 Mo)
Télécharger le fichier
Origin : Files produced by the author(s)