Corps, travail, émancipation. Au-delà de la reconnaissance
If in Marxist tradition the concept of work is primordial, this is not the case in Frankfort School, yet, its inheritor. In Adorno and Horkheimeir the concept remains too abstract for a detailed philosophical and sociological analysis of alienation and domination. Habermas criticises the instrumental rationality for its encroachment on the lifeworld, but only from an external point of view. A critical concept of Work must wait until Axel Honneth to come back. Nonetheless, this revaluation neglects the material and corporal interaction, in a conception maybe too intersubjectivist of recognition. We aim at radicalising the critic of work by highlighting the corporal and material dimension of life.
Tandis que dans la tradition marxiste le concept de travail est évidemment primordial, ce même concept ne l'est plus dans l'école de Francfort, qui en est pourtant l'héritière. Chez Adorno et Horkheimer, il demeure trop abstrait pour qu'il puisse servir pour une analyse philosophico-sociologique détaillée de l'aliénation et de la domination. Chez Habermas, l'agir stratégique ne peut être critiqué que d'un point de vue extérieur, en tant qu'il empiète sur le monde vécu. Il faut attendre l'oeuvre d'Axel Honneth pour pouvoir à nouveau disposer d'un concept critique de Travail. Toutefois, dans cette réévaluation du travail, l'interaction matérielle et corporelle est négligée en faveur d'une conception peut-être trop fortement intersubjectiviste de la reconnaissance. Par la mise en valeur de la dimension corporelle et matérielle de la vie, nous visons la radicalisation de la critique du travail.
Fichier principal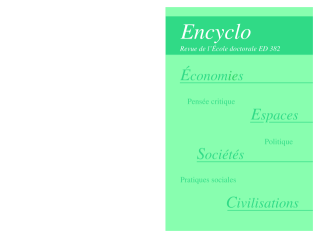 Encyclo_3_Marco_Angella.pdf (232.81 Ko)
Télécharger le fichier
Origin : Publisher files allowed on an open archive