Le voile comme véhicule politique et utopique du corps : émancipation sociale et investissement territorial
This essay proposes to study veiled women's bodies taken, in the French Republic, as a space for political and symbolical actions. From a social semiotic approach, focusing the social and symbolical dimension of the speech, this work goes through the analysis of discourses about the veil taken by the Muslim women in France, inscribed in media debates of the headscarf affair (1989-2004) and the integral veil affair (2009-2010), according they were (re)presented by Le Parisien, Le Figaro and Libération newspapers. Our aim is to make intelligible the wearing of this religious sign as a practice of feminine, social and cultural emancipation reconfiguring the relation between the private and public space, between religion and modernity, between transparence and opacity regimes. It is important for us to understand the way such bodies in minority state are claimed as militants and emancipated bodies, therefore, political and overall utopian.
Cet article porte sur les corps des femmes voilées de la République française comme des lieux d'action politique et symbolique. Dans une approche sociosémiotique, centrée sur la dimension sociale et symbolique de la discursivité, ce travail développe une analyse des discours en défense du voile islamique tenus par les femmes musulmanes ayant participé aux débats médiatiques autour de l'affaire du foulard (1989-2004) et de " l'affaire de la burqa " (2009-2010), tels qu'ils ont été (re)présentés par les journaux Le Parisien, Le Figaro et Libération. Notre objectif est d'observer comment, à travers leurs discours, le port de ce signe religieux est signifié comme une pratique d'émancipation féminine, sociale et culturelle, reconfigurant le rapport entre le privé et le public, entre la religion et la modernité, entre les régimes de transparence et d'opacité. Cela nous intéresse de comprendre comment ces corps minoritaires, stigmatisés et jugés soumis sont surtout revendiqués comme militants, émancipés, donc, politiques et, même, utopiques.
Fichier principal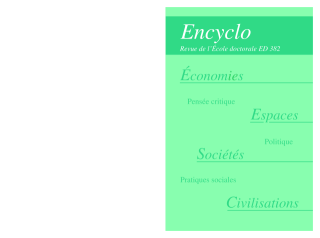 Encyclo_3_Camila_Areas.pdf (233.48 Ko)
Télécharger le fichier
Origin : Publisher files allowed on an open archive