Entre émancipation et paranoïa : la " propriété de soi-même " comme motif aporétique de la sensibilité politique moderne
At the junction of a purely bookish history of political ideas and of what could be called a socio-history of sensibility, this article claims that the modern political rationality is based on a peculiar form of subjectification captured by the notion of "self-ownership". Classically formulated by John Locke, the idea, according to which the end pursued by men when they submit to a government is "the preservation of their property", implies the existence of a foundational self-ownership, which conditions the individual's capacity to acquire properties. Thomas Hobbes wrote similarly, a few decades earlier, that "[o]f things held in propriety, those that are dearest to a man are his own life and limbs", those bodily things by means of which his liberty can come about as the unlimited extension of his vital force. At the root of the liberal doctrine thus lies this mode of self-relationship that holds that, possessing himself by virtue of natural right, the individual is qualified to receive from the sovereign authority the guarantee of his exclusive right to that which he can acquire, as well as the assurance of being protected from harm. In the political discourse as well as in the sensibility of modern men, to possess one's own body appears as the condition for freedom. This article aims to demonstrate the long-standing of such a conception of selfrelationship within other traditions critical of liberalism, such as the Marxist theory of alienation or the feminist critique of corporeal subjection to patriarchy. If the reappropriation of one's body, wrenched from the grips of the powers that exploit it, can foster emancipation, it raises the question whether or not this entails the risk of repeating the underside of the liberal posture, that is, the affective disposition that leads men to see in others a threat against selfownership, of which the Hobbesian state of nature, the motive of another form of servitude, is a paradigmatic example.
Au croisement d'une histoire purement livresque des idées politiques et de ce que l'on pourrait appeler une sociohistoire de la sensibilité, cet article pose que la rationalité politique moderne se fonde sur une forme de subjectivation singulière que désigne la notion de " propriété de soi-même ". Classiquement formulée par John Locke, l'idée voulant que la fin pour laquelle les hommes " se soumettent à un gouvernement, c'est de conserver leurs propriétés " suppose l'existence d'une propriété fondamentale de l'individu sur lui-même, un " droit de propriété sur sa personne " qui conditionne son pouvoir d'appropriation sur ses biens. Dans la même veine, Thomas Hobbes écrivait, quelques décennies plus tôt, que " parmi toutes les choses que chacun a en propriété, les plus chères sont sa vie et ses propres membres ", ces choses du corps grâce auxquelles sa liberté peut s'accomplir comme déploiement illimité de sa puissance vitale. À la racine de la doctrine libérale se trouve donc cette modalité du rapport à soi qui affirme que, se possédant lui-même en vertu d'un droit naturel, l'individu est dès lors qualifié à recevoir de l'autorité souveraine la garantie d'un droit exclusif sur ce qu'il peut s'approprier, de même que l'assurance d'être protégé des torts qui pourraient lui être faits. Avoir un corps en propre apparaît donc, dans le discours politique mais aussi dans la sensibilité des modernes, comme la condition de la liberté. L'article vise à démontrer la pérennité d'une telle conception du rapport à soi au sein de traditions critiques de la doctrine libérale, qu'il s'agisse de la théorie marxiste de l'aliénation ou de la critique féministe d'une corporalité asservie aux exigences du patriarcat. Si la réappropriation de son corps, son arrachement à l'emprise des puissances qui l'exploitent peuvent apparaître comme un moyen d'émancipation, la question se pose de savoir si cela ne risque pas de reconduire ce qui constitue l'envers de la posture libérale, soit cette disposition affective qui mène à voir en autrui une menace à la propriété de soi, dont l'état de nature hobbesien, motif d'un autre genre de servitude, offre l'exemple paradigmatique.
Fichier principal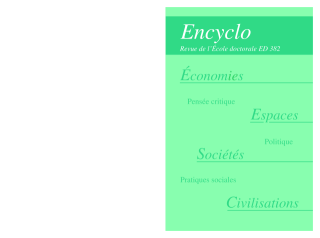 Encyclo_3_Jean-Francois_Bissonnette.pdf (223.95 Ko)
Télécharger le fichier
Origin : Publisher files allowed on an open archive