La vie sans corps, un problème politique
This article is an essay on the relation between a phenomenology of the body centered on the experience of the alterity of the body, irreducible to the proper body, and a political phenomenology centered on the phenomenality of action, irreducible to an identification with the proper of a pre-established community and also to a production of this community. By interrogating this relation, I seek to obtain a certain theoretical articulation between plurality and alterity, that gives sense to a non-transcendental concept of plurality and corporality. This frame of theoretical reflection permits me to propose a critique of the conceptual matrix of the theory of biopower, but first and foremost to present a critique of neoliberalism. It is in this critique of neoliberalism that the reader will find the explication of the idea of a "life without body", and then see in which sense I can speak about bio-liberalism as being a political problem that makes necessary the theoretical articulation between the places of the body and the places of the political. The reader will find the names of E. Levinas, H. Arendt, E. Tassin and J. Rancière as the direct references of this reflection.
L'article intitulé " La vie sans corps, un problème politique " est un essai sur le rapport entre une phénoménologie du corps centrée sur l'expérience de l'altérité du corps, irréductible au corps propre, et une phénoménologie politique, centrée sur la phénoménalité de l'agir, irréductible à la fois à l'identification au propre d'une communauté préalable ainsi qu'à une production de cette communauté. Il s'agit d'obtenir de ce rapport une certaine articulation théorique entre pluralité et altérité, qui donne sens à un concept non transcendantal de la pluralité et de la corporéité. Ce cadre de réflexion théorique permet à l'auteur de proposer une critique de la matrice conceptuelle de la théorie du biopouvoir, mais principalement de présenter une critique du néolibéralisme. C'est dans cette critique du néolibéralisme que le lecteur trouvera l'explicitation de l'idée d'une " vie sans corps ", pour ensuite saisir en quel sens l'auteur peut parler du bio-libéralisme comme étant un problème politique qui rend nécessaire l'articulation théorique entre les lieux du corps et les lieux de la politique. Le lecteur trouvera les noms d'E. Levinas, de H. Arendt, de M. Foucault, d'E. Tassin et de J. Rancière comme des références directes de cette réflexion.
Fichier principal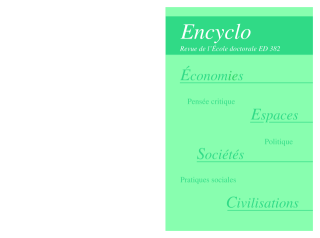 Encyclo_3_Miguel_Castello.pdf (276.59 Ko)
Télécharger le fichier
Origin : Publisher files allowed on an open archive