Émasculations cléricales. Itinéraires particuliers pour aborder l'identité du clerc émasculé (XIIe-XVe siècle)
This study takes place after the gregorian reform of the eleventh century wich strives to make the chastity respect necessary for all the clergyman. In the acceptation of that continence, several itineraries appear to take into account the emasculated clerks. The revengeful secular castration and the religious enthusiasmic self-emasculation, help us to take a closer look at the twelth to fifteenth century clerks'sexual desire. However certain amont of this emasculations do not involve carnal torments and each clerck has to warn the papacy about this irregular situation. Those different applications for dispensation addressed to the pontifical chancellery allow us to interrogate the notion of " third gender " and to put into perspective the established rules of the Roman Church as for these exeptional applications.
Au XIe siècle, la réforme grégorienne s'évertue à imposer la chasteté à tous les clercs, réguliers comme séculiers. Des itinéraires singuliers se dégagent dans l'appropriation de cette continence cléricale : ceux de clercs émasculés. Castration vengeresse des laïcs et auto-émasculation par ferveur religieuse aident à approcher les rapports au désir sexuel qu'entretiennent les clercs du XIIe au XVe siècle. Pour autant, certaines émasculations ne relèvent pas de ces préoccupations charnelles, quoi qu'il en soit, chacun d'entre eux doit alerter la papauté de sa situation irrégulière. Ces différentes demandes de dispense à la chancellerie pontificale permettent de questionner la notion de " troisième sexe " et de mettre en perspective les règles établies par l'Église de Rome quant à ces demandes extraordinaires.
Fichier principal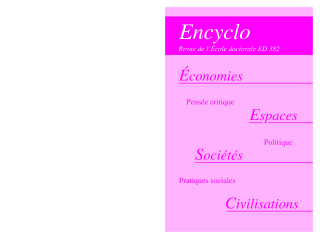 Encyclo_4_Ninon_Dubourg.pdf (235.03 Ko)
Télécharger le fichier
Origin : Explicit agreement for this submission