Occupy Gezi : Is it possible to think out a longlasting "breaking" ?
Occupy Gezi : Est-il possible de penser une rupture durable ?
This paper examines various dynamics of the Occupy Gezi movement which differentiate it from other social movements in the history of Turkey, such as its organization, coordination and action methods, its causes and demands, protestors' profiles and the relations between different social groups. I use two major research strategies: (1) a qualitative analysis of my observations during the occupation of Gezi Park (2) non-directive interviews. Data have been collected from interviews, newspapers, and published reports. This article considers Occupy Gezi as a "rupture" in the context of Turkey and discusses if the modifications made by this movement can be permanent.
Cet article examine les différentes dynamiques d'Occupy Gezi qui l'ont différencié des anciens mouvements sociaux dans l'histoire de la Turquie. Il s'agit de son mode de coordination, d'organisation, d'action, ses raisons et ses demandes, les profils des manifestant-e-s et les rapports sociaux entre les différents groupes sociaux. Les matériaux constituant cette recherche ont été collectés à l'occasion de l'observation participante et des entretiens non-directifs que nous avons effectués avec les manifestant-e-s à Istanbul, ainsi que l'analyse d'un échantillon des journaux turcs et des enquêtes publiées sur Occupy Gezi. Cet article considère ce mouvement comme une « rupture » dans l'histoire de la Turquie et s'interroge sur la permanence ou non des modifications faites par Occupy Gezi.
Fichier principal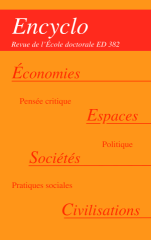 TELSEREN_Occupy Gezi.pdf (255.53 Ko)
Télécharger le fichier
Origin : Explicit agreement for this submission