The lexicogrammar approach to analysing phraseology and collocation in ESP texts
Phraseology and collocation are central phenomena in language. However, the usual way in which these notions are understood is often highly restricted (phraseology is often associated with 'idiomatic expressions', collocation is often seen as 'a fixed sequence'). In this paper I recast these notions in terms of Halliday's notion of lexicogrammar. My particular aim is to show how collocation and phraseology, from a lexicogrammar perspective, are relevant to English for Specific Purposes (ESP). I also set out here a method of textual analysis which exploits the phraseological behaviour of grammatical signs. Far from being 'collocation free', grammatical items can be shown to be stable elements in relatively predictable but also productive cascades of expression. I would argue that the identification of such extended lexicogrammatical patterns should be a key feature in the systematic analysis of ESP texts.
La phraséologie et la collocation sont des phénomènes linguistiques fondamentaux. Cependant, les linguistes ont souvent une conception assez limitée de ces termes (la phraséologie est associée aux « expressions idiomatiques », les collocations considérées comme des « séquences figées »). Dans cet article, je refonde ces notions du point de vue de la « lexicogrammaire » de Michael Halliday. Mon objectif est de démontrer comment ces notions, dans l'optique de la théorie systémique fonctionnelle, seraient utiles pour l'anglais de spécialité (ASP). Je propose également une méthode d'analyse textuelle qui s'appuie sur le rôle phraséologique des signes grammaticaux. Loin d'être « sans collocations », il est en effet possible de démontrer que les mots grammaticaux sont des éléments stables dans des « cascades » d'expressions relativement prévisibles mais aussi productives. L'identification de schémas lexicogrammaticaux de ce type devrait constituer une étape de base dans l'analyse systématique des textes d'ASP.
Fichier principal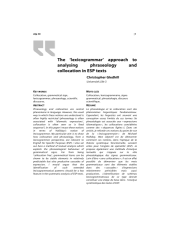 Gledhil 2011 Lexicogrammar approach ESP.pdf (278.04 Ko)
Télécharger le fichier
Origin : Publisher files allowed on an open archive