Déplacements forcés et renouvellement urbain à Hồ Chí Minh Ville
The procedures of forced displacement in Hồ Chí Minh City are called « land recovery » or « land liberation » and partake of a complex urban land history, where informal uses of land plots have been a constant. Analysing the evolution of these procedures since the reforms of the end of the 1980's offers an original perspective on the legislative and institutional renewal of the "socialist market economy" in Việt Nam. The implementation of contemporary urban projects is inevitably facing the lack of available land as well as the intricacies of the inhabitants' different administrative and legal statuses. Therefore, the forced displacement of inhabitants is an inevitable step for every urban renewal project. But the cost of these procedures and the complexity of their implementation are now a major cause for debate. New urban stakeholders are finally taking part in a game that used to be strictly limited to state actors. During the last two decades, not only have the procedures of forced displacement evolved, but their goals and the type of populations concerned have also changed.
Les procédures de déplacements forcés à Hồ Chí Minh Ville sont désignées localement sous les vocables de « récupération » ou de « libération » de la terre et s'inscrivent dans une histoire foncière complexe, où le recours à l'occupation informelle de terrains fut une constante. L'analyse de l'évolution de ces procédures depuis les réformes de la fin des années 1980 permet d'offrir une lecture originale du renouveau législatif et institutionnel du Việt Nam « socialiste à économie de marché ». L'implantation des projets urbains contemporains se heurte en effet immanquablement à l'absence de terrains disponibles et à la complexité des différents statuts administratifs et juridiques de leurs occupants. Déplacer les habitants constitue alors un passage obligé du renouvellement urbain. Mais le coût de ces procédures, et la difficulté croissante de leur mise en œuvre, commence à faire véritablement débat avec l'entrée en jeu de nouveaux acteurs, dans un domaine originellement contrôlé par les seuls acteurs étatiques. En deux décennies, ce ne sont pas seulement les procédures de déplacements forcés qui ont évolué mais également leurs objectifs et le type de population concernée.
Fichier principal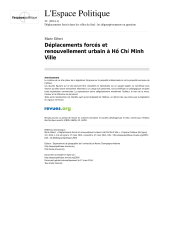 MGibertEP22.pdf (2.71 Mo)
Télécharger le fichier
Origin : Publisher files allowed on an open archive