The Ongoing French Reception of the Objectivists
For almost fifty years, the Objectivists have been an enduring reference in French poetry, or at least for that section of French poetry committed to the modernist legacy. From the 1968 publication of Serge Fauchereau's Lectures de la poésie américaine to the documentary poetics of the post-poets, every generation has refashioned the Objectivist canon and critical meaning according to their different, at times antagonistic, needs. Focusing on issues of poetic theory, this paper brings out the landmarks and articulations of the French reception of the Objectivists and shows how the controversies attending the interpretations of Objectivist poetics served to clarify and advance certain issues of French poetics. More generally, it sheds light on the complex dynamics of textual circulation, reception and canonization.
Cela fait bientôt cinquante ans que les Objectivistes constituent une référence pour de nombreux poètes français héritiers des expérimentations modernistes. De la publication des Lectures de la poésie américaine de Fauchereau en 1968 jusqu'à la poésie documentaire des post-poètes, chaque génération a reconfiguré le canon objectiviste et réinterprété sa signification en fonction d'un contexte et d'un projet poétique. Centré sur les enjeux de poétique, cet article dégage les moments-clés de la réception française des Objectivistes; il montre comment les interprétations divergentes de leur poétique ont aidé à clarifier et à prolonger la réflexion de la poésie française sur elle-même, et, plus largement, éclaire les dynamiques complexes qui sont en jeu dans la circulation, la réception et la canonisation des textes.
Fichier principal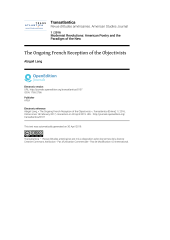 34 Lang—The Ongoing French Reception of the Objectivists.pdf (321.6 Ko)
Télécharger le fichier
Origin : Publisher files allowed on an open archive