Les déficits de l'assurance-maladie financés de manière largement désintermédiée depuis 2011 et à un taux négatif dès 2015
This article explains the changes in the deficits of the National Health Insurance Fund for Employees (CNAMTS) and the account balance of the Central Agency for Social Security (ACOSS), taking into account the debt assumption by the Social Sinking Fund (Cades). It describes the major changes in the ACOSS' financing management since 2004 towards increasingly disintermediated financing. It analyses the monetary context, the structure of ACOSS' financing and the financing rates that became negative since 2015. It concludes by presenting prospects and identifying elements favorable to the complete security of the CNAMTS' and CPAM's cash position, both in terms of financing and daily cash flow.
Cet article, après avoir retracé les évolutions des déficits de la CNAMTS et du solde de son compte à l'Agence Centrale des Organismes de Sécurité Sociale (ACOSS) compte tenu des reprises de dette par la Caisse d'Amortissement de la Dette Sociale (Cades), décrit les grandes évolutions de la gestion des financements par l'ACOSS depuis 2004 vers un financement de plus en plus désintermédié. Il analyse le contexte monétaire, la structure des financements de l'ACOSS et les taux de financement devenus négatifs dès 2015. Il termine en présentant des perspectives et en identifiant des éléments favorables à la sécurisation complète de la trésorerie de la CNAMTS et des CPAM, tant en financement qu'en alimentation quotidienne de trésorerie.
Fichier principal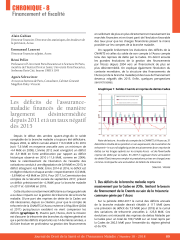 JDSAM_18_A_Gubain_E_Laurent_Les déficits de l'assurance-maladie financés de manière largement désintermédiée depuis 2011 et à un taux négatif dès 2015 .pdf (1.25 Mo)
Télécharger le fichier
Origin : Explicit agreement for this submission