Il incombe au médecin de s'enquérir de l'état de santé du malade
The author comes back on the judgment of the Court of Cassation which concerned a surgeon accused of involuntary manslaughter involving the patient's death in postoperative. The author recalls, first of all, the doctor's obligations "to provide attentive and conscientious care" to the patients based on acquired and current scientific data. The Court of Cassation defined that the doctor has a duty to "inquire about the patient's condition" and carry out a thorough control of the evolution of the patient's health. So, in this case, the doctor didn't follow the patient well enough, and is found guilty of involuntary manslaughter. In a second time, the author brings our attention on the assessment of the doctor's fault in order to be able to incur criminal liability. The result is that the doctor has committed severe negligence that endangered the patient's life, that these risks could not be ignored by the doctor, and so is constituted a "characterized fault". At last, the author addresses the "loss of chance of survival" that the judges have raised, but which, however, is not contemplated in French criminal law. The author defined that the Court of Cassation should have censored that motive.
L'auteur revient sur l'arrêt de la Cour de cassation qui concernait la mise en cause pour homicide involontaire d'un chirurgien à la suite du décès d'une patiente en post-opératoire. L'auteur rappelle, dans un premier temps, les obligations du médecin à « prodiguer des soins attentifs et consciencieux » aux patients tout en se fondant sur les données acquises et actuelles de la science. La Cour de cassation précise que le médecin a un devoir de « s'enquérir de l'état du malade » et ainsi effectuer un contrôle poussé de l'évolution de la santé du patient. Ainsi, au regard de l'espèce, le praticien n'a pas assuré le suivi normal du patient, et est déclaré coupable d'homicide involontaire. Dans un deuxième temps, l'auteur porte son attention sur l'appréciation de la faute du médecin afin de pouvoir engager sa responsabilité pénale. Il en ressort que le médecin a commis des négligences graves ayant mis en danger la vie du patient, que ces risques ne pouvaient être ignorés du médecin, et ainsi est constituée la faute caractérisée. Dans un dernier point, l'auteur aborde « la perte de chance de survie » que les juges du fond ont soulevé, mais qui, cependant, n'est pas envisagée en droit pénal français. L'auteur précise que la Cour de cassation aurait dû censurer ce motif.
Fichier principal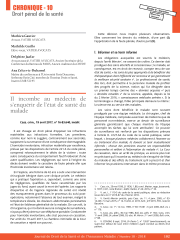 JDSAM_18_A_Zelcevic-Duhamel_Il incombe au médecin de s'enquérir de l'état de santé du malade.pdf (439.56 Ko)
Télécharger le fichier
Origin : Explicit agreement for this submission