S'assembler, délibérer, enregistrer au XIVe siècle : quand Marseille se constitue en institution
The activity of the Council of Marseilles during the 14th century appears to be strictly dominated by the Angevin power, according to the city statutory texts, which were elaborated in the mid-13th century, and are well-known since Regine Pernoud's editing work. However, the Council's day-to-day is extensively documented by deliberative writings, permitting close observation of the actual power games between the royal officers and the councilors. In this article, a study of the city registers sheds new light on the statutory norms which were progressively re-elaborated over the decades. Next, the criterion of the Council's efficiency is brought into question, leading to the idea of a gradual development of an autonomous government built upon the city assembly and its written and legal activity, as seen from the perspective of its everyday practices.
L'activité du conseil de Marseille au XIVe siècle semble strictement encadrée par la domination angevine, s'il l'on s'en tient au corpus de textes statutaires établi au milieu du siècle précédent, et bien connu depuis les travaux d'édition de Régine Pernoud. Or la vie consulaire est documentée par d'abondantes écritures délibératives, permettant de suivre au plus près les jeux de pouvoir effectifs entre les officiers comtaux et le corps des conseillers de ville. L'étude des registres du conseil proposée par le présent article remet en perspective les normes statutaires, progressivement réélaborées au cours des décennies. Puis le critère de l'efficacité de l'activité consulaire est interrogé, pour aboutir au constat de la construction graduelle d'une autorité municipale propre, autour de l'assemblée de ville, de son activité juridique et scripturaire, envisagée dans son caractère quotidien et pratique.
Fichier principal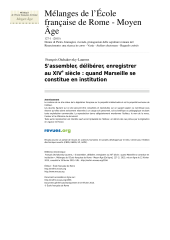 Otchakovsky - MEFRM - S'assembler, déliberer, enregistrer, Marseille se constitue en institution.pdf (911.69 Ko)
Télécharger le fichier
Origin : Publisher files allowed on an open archive