« Des marchands sans livres de comptes ? Sources d'entreprises et documentation commerciale dans l'Europe francophone (Royaume de France, Îles britanniques, XIVe-XVe siècles)
The contrast between northern countries, where merchant archives and especially ledgers, are rare, and Mediterranean regions, mostly Tuscany, with abondant archives and many ledgers, is a classic topic in commercial history. Recent research has not change this landscape: archival findings remain exceptional in northern Europe, and most of them are about Italian or Spanish merchants. Yet, an inquiry less archive-oriented provides a different idea of late-medieval European trade: northern merchants did not keep ledgers when there was not credit involved in their relations, but they had to record their transactions in authentic letters which where exchanged between partners at the end of a deal, then destroyed or cancelled. The opposition between northern and southern region is not between learnt and illiterate trade, but between archive of companies preserved inside the firm network and records of the operations, which usually vanished unless there was conflict between partners. Evidence from the Jacques Coeur trial provide new clues to understand how European merchant, with different kinds of literacy, could deal together.
L'opposition entre une Europe méditerranéenne (particulièrement la Toscane), riche en archives commerciale et en livres de comptes, et des régions septetrionales où les sources sont rares, est un thème classique de l'histoire économique. Les recherches récentes n'ont pas modifié cette opposition mais une enquête moins orientée sur les archives commerciales éclaire un autre fonctionnement de l'économie européenne, dans lequel la mise en écriture des relations commerciales ne passe pas par l'enregistrement des transactions par les auteurs mais plutôt par l'échange de lettres authentiques faisant mémoire des engagements des partenaires, qui seront restituées et détruites à l'issue de l'opération. Dans cette perspective, l'opposition entre nord et sud de l'Europe n'est plus entre commerce « lettré » et « illettré » mais entre archives des compagnies conservées à l'intérieur du réseau des acteurs et pièce justificatives de transactions menées à bien, cannelées ou détruites, à moins qu'un conflit entre les parties n'ait justifié leur conservation. Les sources relatives aux affaires de Jacques Coeur éclairent ce fonctionnement des relations commerciales et permettent de comprendre comment s'organisèrent les relations entre les deux Europes marchandes.
Fichier principal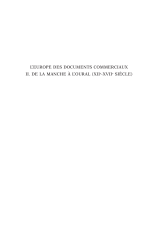 Arnoux_Diplomatique marchande.pdf (112.48 Ko)
Télécharger le fichier
Origin : Files produced by the author(s)