Quelles représentations sociales des bénéficiaires de la CMU-C ?
L'objet de cet article est d'analyser les représentations des bénéficiaires de la CMU complémentaire auprès des professionnels de santé de ville. Les résultats reposent sur une analyse socio-anthropologique de discours d'une cinquantaine de médecins ou dentistes, réalisée entre 2015 et 2016. Le caractère ciblé de la CMUc a contribué à une plus grande visibilité de ces patients et à une catégorisation qui favorise une essentialisation. Les représentations dominantes sont axées sur la dénonciation de conduites, telles que l'absentéisme, la surconsommation de soins, la fraude articulées autour d'une rhétorique sur les dangers de la gratuité des soins dans un contexte de sourde remise en cause de la solidarité. En outre, ces patients sont perçus comme un fardeau : la prise en charge de certains de ces patients est plus lourde, ils sont plus malades et présentent des situations complexes, ils sont parfois moins observants, ce qui en fait de mauvais patients et bien-sûr moins rentables.
This article analyses liberal practitioners and their social representations of patients covered by public means-tested complementary health insurance (CMUC). The data came from in-depth face-to-face interviews with physicians and dentists conducted between 2015 and 2016, analyzed from a socio-anthropological approach. CMUc as target law contributes to create visibility and categorization process which facilitate essentialization. Most of these representations are mainly focused on patient behaviours such as insurance fraud, failing to keep appointments and overuse of healthcare services. Interviewed practitioners often attribute those behaviours to free access to healthcare, while at the same time challenging social welfare. Moreover, those patients are perceived as burden: the caretaking process is more heavy, with more critical or complex illnesses – and sometimes they are less compliants – and labelled as "bad patients" and of course less cost effective.
Fichier principal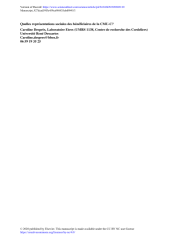 S1636652220302130.pdf (228.1 Ko)
Télécharger le fichier
Origin : Files produced by the author(s)