Les communes nouvelles françaises (2010-2019) : une réforme territoriale silencieuse
Since 2010, a series of legal frameworks and fiscal arrangements in France have promoted the consolidation of existing municipalities (= communes) into "new municipalities". From 2012, and especially in 2015-2016, there have been numerous mergers (from 36 571 municipalities in 2012 to 34 841 on January 1st, 2019); although the phenomenon remains marginal compared with the total number of municipalities, given that France now has almost 800 new municipalities. Based on interviews with public actors and statistical analyses of national data, this research describes the phenomenon of new municipalities, first by presenting it as a new response to recurrent criticisms in France targeting municipality level of government. These mergers are further analyzed by showing their motivations, the reconfiguration they impose, all taking into account permanence, including intercommunality. The unequal spatial distribution is finally discussed, describing clustered spatial patterns in some regions however no single type of merging municipality could be specified.
Depuis 2010, des incitations législatives successives cherchent à favoriser les regroupements de municipalités au sein de « communes nouvelles ». Depuis 2012 et surtout 2015, les fusions ont été nombreuses (on est passé de 36 571 communes en 2012 à 34 841 au 1er janvier 2019) ; bien que le phénomène reste limité comparé au nombre total de communes, la France compte désormais presque huit cents communes nouvelles. À partir d'entretiens avec des acteurs publics et d'analyses statistiques sur des données nationales, ce travail étudie le phénomène des communes nouvelles, d'abord en le présentant comme une nouvelle réponse aux critiques récurrentes visant l'échelon municipal en France. Ces fusions sont ensuite analysées en montrant leurs motivations, la reconfiguration qu'elles imposent, le tout en prenant en compte des permanences, dont le phénomène intercommunal. Est enfin présentée la distribution spatiale très inégale, orientée sur certaines régions dans un phénomène de grappe, sans qu'on puisse spécifier un type unique de communes fusionnantes.
Fichier principal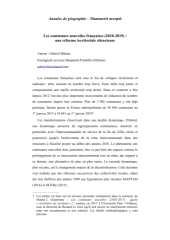 Communes nouvelles - Bideau Manuscrit accepté.pdf (1.15 Mo)
Télécharger le fichier
Origin : Files produced by the author(s)