Phraseology and Lexicogrammatical Patterns in Two Emergent Paragame Genres Videogame Tutorials and Walkthroughs
This paper looks at the lexico-grammatical patterns found in two paragame [paratextual game] genres: videogame tutorials and walkthroughs. Adopting a "contextualist" (Firth 1957) approach, the author posits that these two genres are both well-defined and phraseologically distinct, and he demonstrates this through a corpus-driven, phraseological analysis of "key" grammatical items. Gledhill's analysis allows insight into statistically more likely occurring particles, adverbs, conjunctions, and pronouns in these genres, as well as three main sets of patterns relating to (1) the management of the player's moves within the imaginary space of the game, (2) the framing of advice, and (3) the tracing of relationships between individual discourse referents, for example, through the use of pronouns. Adopting a systemic functional approach to discussing his results, Gledhill argues (following Bloor & Bloor 2013) that it would be erroneous to see this type of language as anything like LGP (language for general purposes), because every language event is contextualized and codified accordingly: it follows that videogame tutorials and walkthroughs should be seen as 'discourses for specific purposes".
Cet article examine les motifs lexico-grammaticaux trouvés dans deux genres de paratexte ludique : des didacticiels de jeux vidéo et des "walthrough" (des procédures pas à pas). Adoptant une approche "contextualiste" (Firth, 1957), l'auteur affirme que ces deux genres discursifs sont à la fois bien définis et distincts sur le plan phraséologique, ce qui peut se démontrer notamment par l'identification des schémas lexico-grammaticaux qui se forment autour de certains éléments grammaticaux "clés". L'auteur passe en revue les formes grammaticales les plus statistiquement saillantes dans ces genres de texte (surtout les particules, adverbes, conjonctions et pronoms) , ainsi que de trois ensembles principaux de motifs concernant (1) la gestion des mouvements du joueur dans l'espace imaginaire du jeu, (2) l'expression de conseils, et (3) le suivi des relations entre les référents de discours individuels, par exemple, par l'utilisation de pronoms. Adoptant une approche systémique fonctionnelle pour discuter de ses résultats, Gledhill postule (d'après Bloor & Bloor 2013) qu'il serait erroné de considérer ces genres textuels comme des variétés plus mois proches d'une LGP (langue générale), parce que chaque événement linguistique est contextualisé et codifié : il s'ensuit que les didacticiels et les "Walkthrough" écrits pour les jeux vidéo doivent être considérés comme des "discours de spécialités".
Fichier principal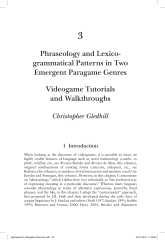 Gledhill 2019 Phraseology and lexico-grammatical patterns in two emergent paragame genres (pp58-86).pdf (388.98 Ko)
Télécharger le fichier
Origin : Explicit agreement for this submission