Nicolas FERRY dit" BÉBÉ ", (1741-1764) nain à la cour du Roi Stanislas LESZCZYNSKl, Duc de Lorraine, Lunéville
We are studying the skeleton, in erected posture, of the famous dwarf harmonious Nicolas Ferry. He was offered to the National Museum of Natural History in Paris in 1764 by Stanislas Leszczynski, Duke of Lorraine and Bar, to be studied. Since then, he is kept in the collections of the Museum, the Musée de l'Homme (Paris). We were hoping to compare his dwarfism with that of the island of Flores discovered in 2003. Nicolas Ferry was 5 years old when Stanislas gathered at the Luneville in 1741. Stanislas was nicknamed Bébé, introducing this term in the French language. History of Bébé is amazing and this article discusses in the party. After his death in 1764, at age 23, Buffon received his bones. He has measured and assembled the skeleton. Our study of the skeleton is complete descriptive anatomical, physiological and paléopathologic. We show that Bébé was not a pituitary dwarf thought as researchers have observed, it would be a rare orphan disease, genetic in origin, dwarfism in early intrauterine, that only an analysis of DNA could prove. This study of Bébé confirms that the volume of the brain has no influence on cognitive abilities.
Nous avons entrepris l'étude du squelette monté, en posture érigée, du célèbre nain harmonieux Nicolas Ferry. Il a été offert au Muséum national d'histoire naturelle de Paris, en 1764, par Stanislas Leszczynski, Duc de Bar et de Lorraine, pour être étudié. Depuis, il est conservé dans les collections du Muséum, au Musée de l'Homme (Paris). Nous espérions comparer son nanisme à celui des nains de l'île de Fores découverts en 2003. Nicolas Ferry avait 5 ans lorsque Stanislas le recueillit à Lunéville en 1741. Stanislas l'a surnommé Bébé, introduisant ce terme dans la langue française. L'Histoire de Bébé est étonnante et cet article l'évoque en partie. Après sa mort en 1764, à l'âge de 23 ans, Buffon a reçu ses ossements. Il les a mesurés et a fait monter le squelette. Notre étude du squelette complet est descriptive, anatomo-physiologique et paléopathologique. Nous montrons que Bébé n'était pas un nain hypophysaire comme le pensaient les chercheurs qui l'ont observé. Il était porteur d'une maladie orpheline rare, d'origine génétique, un nanisme à début intra-utérin, que seule une analyse d'ADN pourrait l'avérer. L'étude de Bébé confirme que le volume du cerveau n'a aucune influence sur les capacités cognitives.
Fichier principal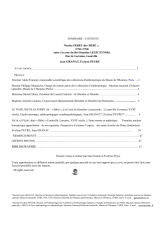 DERnum_Hors_sA_rie_double_colonne_Hal_.pdf (4.09 Mo)
Télécharger le fichier
Origin : Files produced by the author(s)